Remodeling your kitchen with the help of professional contractors can give your home new life. Before you get started, read on to learn about the various kitchen countertop materials available to you as well as the pros and cons of each.
Natural Stone–Granite and Marble
Stone countertops are widely popular around the country for many reasons, and both granite and marble are at the top of the list. Both are naturally occurring and form under immense pressure, causing them to be extremely strong and durable. They come in a variety of colors, patterns, and finishes, and each slab is uniquely created by nature. Granite boasts many benefits, such as its resistance to scratches, heat, water, stains, and bacteria. As long as the sealant remains intact, granite is pretty much indestructible and is great for high-traffic kitchens and homes with kids. Marble is a gorgeous and classic choice, and its cooler temperatures are excellent for people who love to cook and bake.
Quartz
In an effort to reap the benefits of natural stone while adding in a few bonus extras, engineered quartz countertops were created to do it all. They mimic the appearance of granite or marble, or you can choose from a wide variety of other patterns and colors as well. It is also more consistent in color and pattern than natural stone, since it can be more closely controlled in a lab setting. To create these countertops, natural stone is crushed and mixes with resins, making it extremely strong, durable, and resistant to just about anything you can throw at it. It does come with a higher price tag, but many homeowners feel that its long-lasting qualities are far worth it.
Wood
Wood countertops have been gaining in popularity and are an excellent complement to more rustic or farmhouse-style kitchens. You can do your whole kitchen in wood countertops or choose smaller areas, such as a butcher block area or breakfast bar, to do in wood. It does require a little more attention and upkeep, since spills or water can cause wear or damage if not attended to quickly. However, with a good sealant and a little attention, wood can be a gorgeous look that lasts a long time.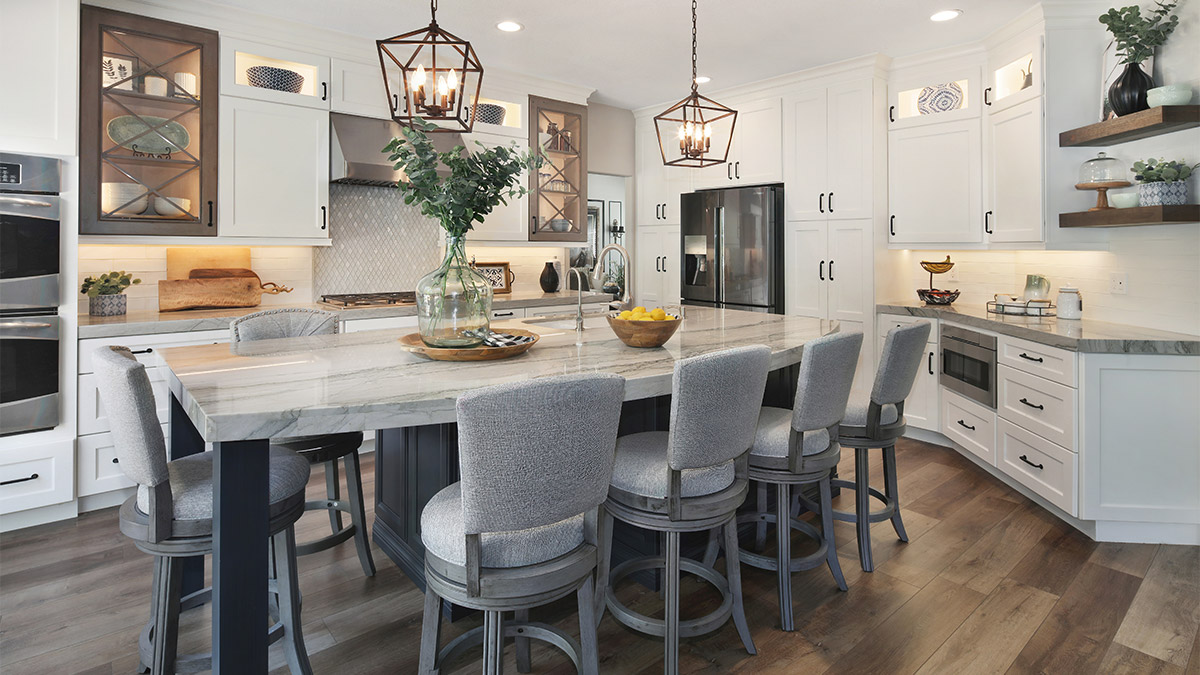 More Unique Options
In addition to the more traditional and popular countertop options, there are some more unique materials you can choose from for a one-of-a-kind kitchen remodel.
Glass countertops are eco-friendly and can come in a variety of fun colors in addition to the traditional clear option. It is durable and lovely, and maintenance includes watching for fingerprints and scratches from sharp cookware. Concrete countertops give your kitchen that modern industrial look, and they are extremely durable. As with most countertops, they do need to be sealed and maintained. Stainless-steel countertops also create that modern vibe of a professional chef's kitchen, and they are heat-resistant and great for busy spaces. Watch for fingerprints and scratches and welcome the worn-in look that comes with a well-used kitchen space.
To explore your options for countertops and kitchen remodeling, set up an appointment with the top contractors in Orange County at Preferred Kitchen & Bath today! Call 949-830-6300.