If you're interested in kitchen remodeling, you might be surprised how much of a difference new cabinets can make. You may not need top-of-the-line appliances for luxury decor if your kitchen has the right bones. Kitchen cabinets are usually seen as the foundation of a kitchen, the framing device around which all other kitchen elements are designed. A well-designed kitchen cabinet in Orange County makes all the difference.
But what type of cabinets are right for your home? There are many styles to consider, including old-fashioned shaker cabinets or minimalist, frameless cabinets. But whatever formation you enjoy, make sure you make a specific design choice: paint them black.
These are some details on how to enhance your kitchen with black cabinets. Find out why kitchen remodelers strongly recommend intense black paint on cabinets in small kitchens.
The Color Myth
There's a well-known design rule that's actually a myth when it comes to your kitchen: dark colors shrink a space. What this refers to is an effect wherein dark colors progress toward the eye, and light colors seem to recede from the eye. So, if you paint a room a very dark color, the walls will seem closer to you than they really are. Conversely, bright colors will enlarge a room.
So why doesn't this rule apply to your kitchen cabinets? Your cabinets aren't actually part of the wall but are essentially pieces of built-in furniture. Dark furniture and decor are actually recommended for small rooms because the eye is drawn to them, and they seem to have more visual complexity. Just balance the effect with light-colored walls for that enlarging effect. Just like that, your small kitchen now looks so much larger. Bonus points if you let natural light in, another enlarging effect. Sunlight adds gorgeous texture to black surfaces to make them seem larger.
The Power of Contrast
Contrast is essential to give rooms balance. If you're hesitant to commit to the look of complex, dark, and mature black cabinets, try adding just a bit of black to the room for color contrast. A black kitchen island makes for a visual centerpiece in a small room and can actually enhance the apparent size of the room because of its central positioning.
Kitchen islands are incredibly practical for prepping and serving food. In smaller kitchens, black island cabinets are also a great visual choice, even if you opt for a mobile island.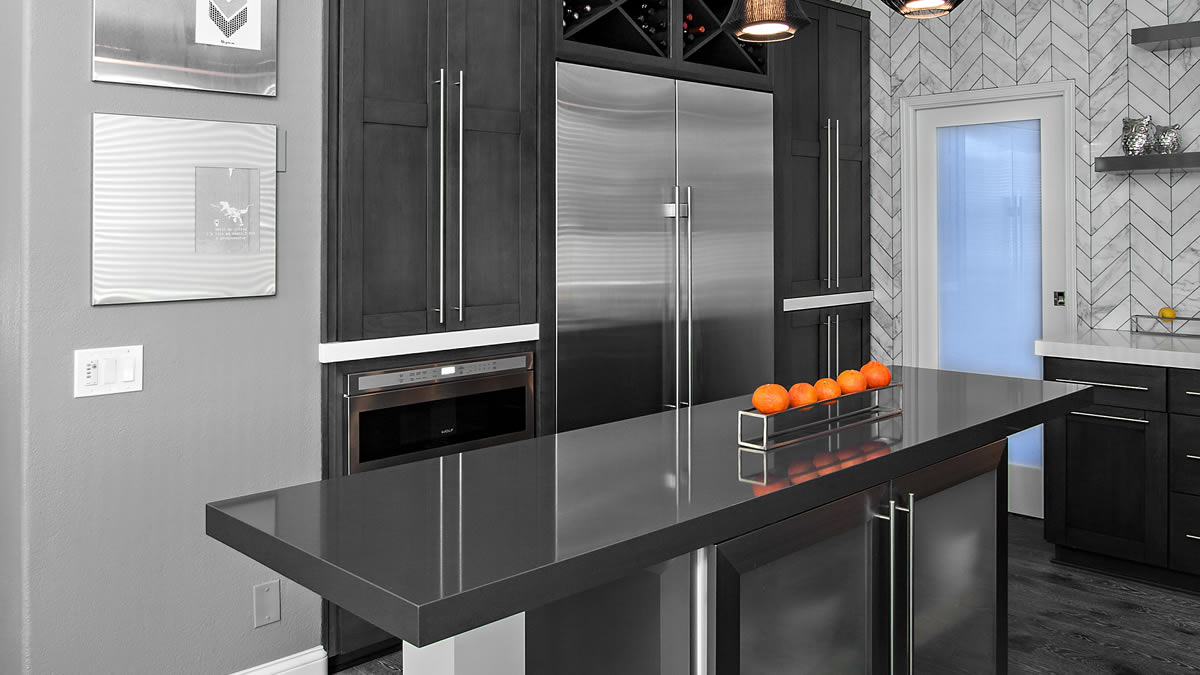 Visual Attention
As said earlier, black is unmatched for attracting the eye. Kitchen remodeling experts often use this color to make homes feel more sophisticated and mature. But if you're concerned about space in your home kitchen, you'd be happy to learn that black is a great partner to other materials that make kitchens look larger. For instance, white backsplash tile with a geometric pattern, glass-front cabinets, and even open shelving are enlarging features in a small kitchen. They also look great with the color black. The matte, flat look of black paint needs the bright and airy contrast that these modern design features lend to small kitchens. Remember that balance is key.
So, if you're wondering how to design a kitchen and bath and conserve visual space, choose black cabinetry. But don't trust in your own paintbrush to pull off the look. Entrust your home to a kitchen remodeling expert. If you're wondering, "Who can I trust to design and construct a kitchen remodel near me?" call Preferred Kitchen & Bath today.