There is something exciting about planning a large remodel for your home. If you love to cook and entertain, you're probably more excited when that remodel is for your kitchen. There are a lot of great. timeless ideas out there for remodeling, but pictures don't necessarily help you create the perfect kitchen for you, and if you're remodeling your kitchen, it's important to find the best design for your needs.
If you're thinking about remodeling your kitchen, check out these ten dos and don'ts before you contact a contractor that specializes in kitchen remodeling in Orange County.
Do Create a Budget
Before you decide on the specifics for your design, be sure to create a budget that won't break the bank. If you've been saving for a while for your kitchen remodel, you may already have an idea of what your budget is, but consider what you can add to that before you contact the contractor.
Don't Go Over Budget
Once you have a budget set, it is important to follow it. If you have already contacted a contractor, make sure you let them know exactly what your budget is and how strict it is. This will help the contractor plan the perfect kitchen for you without going over budget.
Do Consider How Much Space You Have
Once your budget is set, you can start thinking about how much space you have in your home and how you want to utilize it. If you're planning a complete remodel, you can add the cabinet space you currently have and consider the different cabinet models that will help you create more space in your kitchen.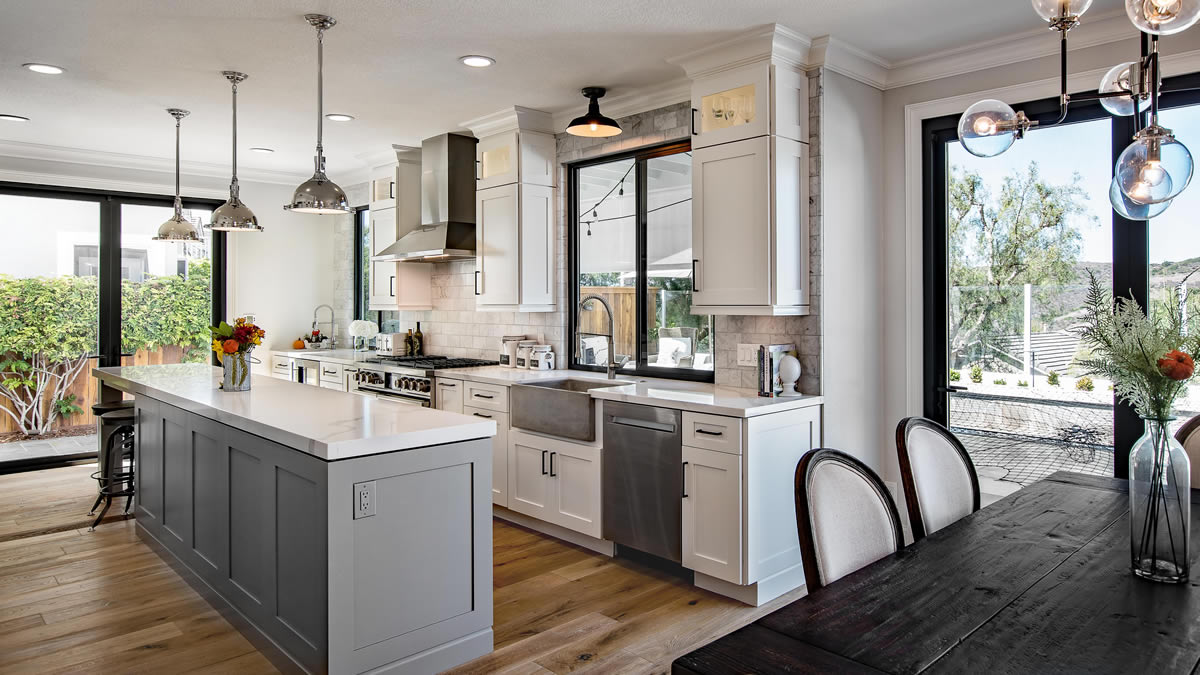 Don't Overfill the Space
If you have a lot of different additions you want to include in your remodel, it's important to keep your space in mind. Overfilling your space can make your kitchen look and feel smaller when it is complete. This can make cooking and entertaining more of a challenge. Be sure to avoid overfilling your space as you start to design your dream kitchen.
Do Consider Lighting
As you design your new kitchen, consider the points where natural lighting enters the room. This will help you understand where to put lighting fixtures, as well as areas that may be a little warm if the sun hits them too long. Once you have an idea of the natural lighting, you can start planning out your lighting fixtures for the kitchen as well. Additionally, it's important to think of the most used areas of your kitchen before you add lighting fixtures.
Don't Skimp on Storage
Part of what makes the kitchens in all of those pictures look so good is the fact that they are cleaned and cleared. Nothing really lives on the counters, and if it does, it has a specific place. That is why it's so important not to skimp on the storage in your new kitchen. Consider the cabinet space as well as the pantry space that you want for your new kitchen as you design it.
Do Consider the Flow
When you're working in your kitchen, you should be able to move from your prep station to your cooking area with ease. Understanding the perfect flow for your kitchen will help you map out the perfect floor plan.
Don't Ignore Your Contractor
Remember that your contractor has created several kitchens that have made a lot of people happy. If your contractor says that something might not work or something might be a little cluttered, consider what he or she has to say. This will help you get a better understanding of how your design will work once it is built out.
Do Read Reviews
When it comes to selecting materials to use for your remodel, make sure you read reviews. These can tell you exactly what you will be dealing with. Remember, those who wrote the reviews have to live with their choices, but you can avoid any mistakes that others have made.
Don't Forget to Have Fun
You're designing your dream kitchen, so go ahead and dream a little. This should be a fun experience for you, no matter what your budget is. Get the items that you want the most, and keep an open line of communication with your contractor.
If you're ready to remodel your kitchen, contact Preferred Kitchen & Bath in Orange County for an estimate and consultation.