Kitchen Renovation Tips
J.F.K. noted in his inaugural speech, "ask not what your country can do for you, ask what you can do for your country." The questions of kitchen remodeling might look slightly less serious than those of politics, however it is an excellent room to begin with when questioning renovations. Research has shown that both bathroom and kitchen renovations are the best place to receive a return on your investment. Many industry professionals claim up to 80%, some, believe the return on your investment can be 100% or more.
As an Orange County homeowner, knowing the market and the investment you're about to make are more than enough to nudge you into a dream remodel. Before diving in, make sure the walls stay up long enough to guide you through a few quick tips, and plan out the process of making design decisions. Each point will assist you in asking the tough questions necessary to create a plan of attack. After all, it is not what you can do for your kitchen, but what your kitchen can do for you.
Look at your home – This is as simple as it appears. Basically, you should take a walk through your home and notice the accents and design features that you have come to love and define your home as an extension of you and your family. Understanding what you like and what you don't about the current layout of your home will help you make an educated decision on the colors, fixtures, cabinets and overall layout of your new kitchen.
Adjacent rooms – When you have determined the new size and scope of your kitchen, take a minute to consider the flow and how the rooms on either side of your kitchen will be affected by the changes. This is important to establish a consistent pattern and some cleverly placed furniture like a sideboard or additional lighting can prevent the remodel from contrasting too sharply with the space you are not renovating.
Cabinetry – When choosing your cabinets, consider using all the space up to the ceiling for kitchens with 8-foot ceilings and plan to give yourself a foot-and-a-half or so for ceiling that are higher. This will give you the storage you need without cluttering the space.
To stain or paint – This is a personal preference, but by using your surroundings you will be able to tell if wood stain coincides with the rest of your home versus a paint. If you are indecisive or like frequent changes, it will be difficult to alter a stain, whereas painted cabinets can be easily updated with a new hue.
Stick to appliance basics – Technology is amazing and it can be very useful, but you should avoid the trendy appliances. These will inevitably lose their appeal over time and you will end up replacing them, whereas a quality appliance that can serve multiple functions like a high-end range can make you kitchen look less cluttered than ovens and stovetop.
Quality endures – What we mean here is that you should make room in your budget for nicer surfaces, fixtures and furnishings because they will last longer. Cabinetry made from some materials will break down over time and cheap products on floors and countertops tend to peel and show its age. Choose stone surfaces for long-lasting appeal and real wood in your cabinets to ensure they hold up to years of use.
Orange County homeowners who use these tips and take a good look at their home should be able to come up with a functional and aesthetic kitchen renovation that will long surpass the trends and any abuse you might throw at it. Should you run into an obstacle or have any technical questions, never hesitate to contact a professional design firm/contractor like Preferred Kitchen and Bath to discuss your concern.
Preferred Kitchen and Bath is Orange County's leading design-focused kitchen and bath remodeler offering an unmatched level of attention, outstanding customer service and products that are of the highest quality. We treat you like family and your project as though it were our own. Which means the designer you work with at the onset of the job will be the same person who serves as your personal project manager throughout the entire process, ensuring an end result designed to bring your family joy for years to come.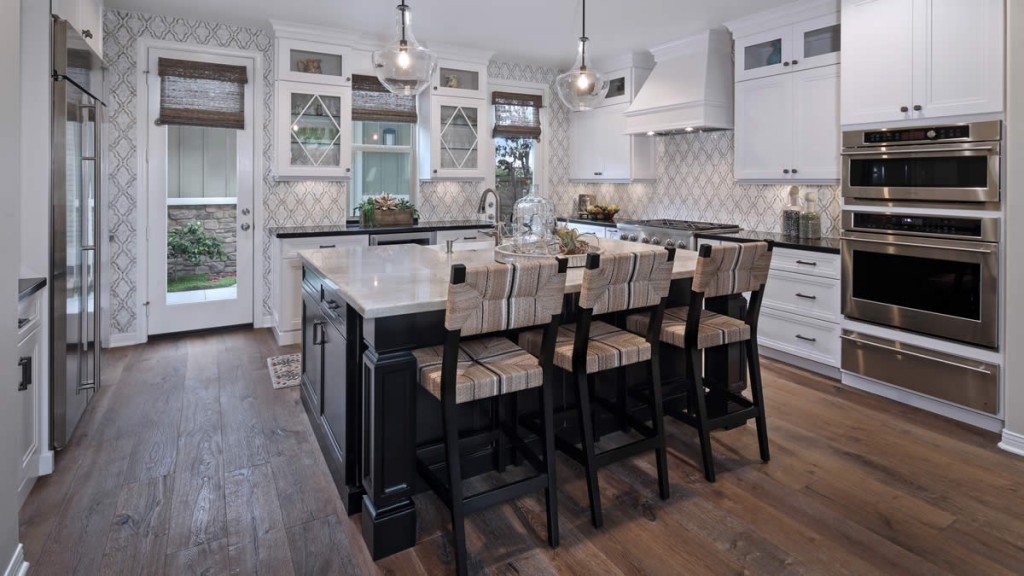 Preferred Kitchen and Bath your trusted source for bath remodeling and kitchen renovation in Lake Forest California. We serve homeowners throughout Orange County with expert home remodeling services.