When it comes to upgrading your kitchen, selecting the cabinets and countertops is probably the most fun and the most important part of the process. Countertops and cabinets are basically the backbones of kitchen design. Without them, it's hard even to visualize what your new kitchen will look like. Of course, with so much to choose from nowadays, it's important to consider a few things before settling down with a final decision. If you've been struggling with how to select the perfect kitchen cabinets and countertops for your home, you're not alone. Luckily, you have this good list of factors to consider when the time comes to mix and match your new countertops and cabinets!
Know Your Budget
Of course, when dealing with any renovations, it's always important to consider your budget first. When you know your budget, you can narrow down your choices and options to fit your price. With so many different styles, designs, and materials out there, having a specific budget can help you and your contractor understand what's best for you and your home. There are spectacular designs out there that are incredibly affordable. By sharing your budget first with the kitchen remodeling company, you know you're getting exactly what you want at a price that works for you.
Consider Your Lifestyle
Once you know your price range, you can start to explore all of the different combinations of cabinetry and countertops that fit your budget. But before you jump towards the colors or designs that you love, it's crucial to consider your lifestyle. Do you have a big family that spends most of their time in the kitchen? Do you like to cook? Will you be hosting elegant dinner parties? Are you aiming towards comfort and quality? These are all questions you should ask yourself before making a final decision on countertops and cabinetry. For instance, if you have kids in the home, you may want to stay away from countertops that scratch easily or need regular maintenance. Ask your kitchen designer to show you the various materials and arrangements that match your lifestyle.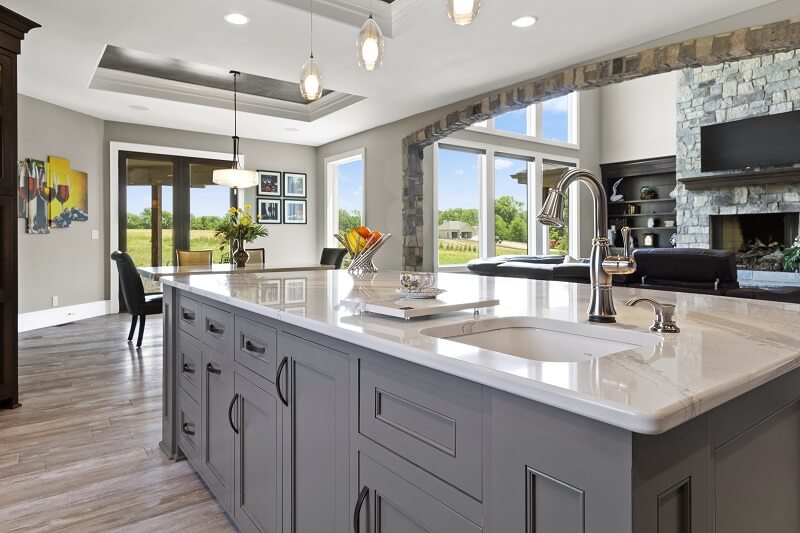 Choose Color Theme and Design
Once you've got your budget and the right materials for your lifestyle, you'll be ready to select the perfect design, style, and color pattern for your cabinets and countertops! You want to make sure that your kitchen and home have organization and flow. Consider the design of the rest of your home. You probably won't go with modern and sleek metal cabinets and slate countertops if the rest of your home has a French country decor. You want to choose colors and designs that work well when walking from one room to the next. Since the kitchen is the heart of the home, you want to have countertops and cabinets that enhance your decor without disrupting it. When working with expert kitchen designers, like Preferred Kitchen and Bath, they'll be able to point you in the right direction and only suggest mixing and matching different materials and designs that fit your home. There's only one company that can create the perfect kitchen cabinet in Orange County! That's Preferred Kitchen and Bath. Give them a call today to learn more about their selection.