If you're about to embark on a kitchen remodel in Orange County, you know what a big investment this is. You also know how important it is to get the perfect designer so that your kitchen is everything you dreamed of. Fortunately, you can have the kitchen of your dreams if you look for a few key characteristics of a good design company. Here are some things to consider when looking for the right kitchen design company.
Individualized Focus
One of the most important considerations when choosing a design company is how many people you'll have to work with. The process can be quite stressful, so it's important to find a company that will place individual attention on you as a client. That means that you should have one person who is focused on your entire project rather than just portions of it. The entire renovation can be a much easier process if you don't have to deal with different contractors, project managers, or designers. Ask the companies you're considering if you'll be assigned one professional to work with so that you can be assured that they'll be involved throughout the entire design and renovation process.
In-Home Consultation
A good design company will need to come to your home at some point for a consultation. It can be helpful for you to look at other kitchen designs to get an idea of what you want, but what it really comes down to is the space the designer has to work with. That's impossible to know if the designers never step foot in your home before planning your renovation. The in-home consultation will allow the designer to get photographs and take measurements. This is important because it will give the designer all the information necessary to create the best design for your needs and desires.
Showroom
Make sure you visit the company's showroom before choosing them for your project. The showroom will have numerous choices for finishes and other options to give you an idea of the potential for your kitchen. Most quality renovation companies will have different manufacturers of cabinets, countertops, doors, and more to make sure they have a wide selection to please any customer.
Project Details
It's important that all the major and minor project details are explained before you begin the renovation project. You should be shown a quality, 3D rendering of what your finished kitchen will look like. In addition, the designer should have documents spelling out the budget and scope of work to be done as well as a rough timeline.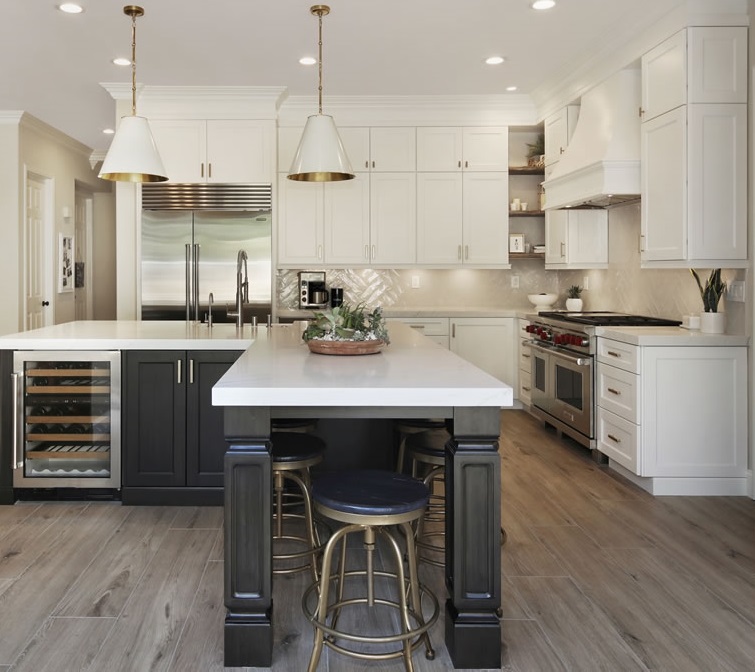 Quality Materials
It's also important to ask about the quality of countertops, cabinets, hardware, and other components that the company will use. A renovation that utilizes high-quality products will produce a better end result and last for a long time as well. You can check the ratings of the companies that the design company contracts with.
Timeline
Be wary of a company that offers an unrealistic timeline of the renovation process. In general, it should take about six weeks for cabinets to be custom made and then at least another two weeks for the project to be completed. The designer should be up front about how long the project will take.
Reviews
Finally, look up reviews of companies offering kitchen design in Orange County. These testimonials and reviews can provide valuable information about customer service and renovation results the company has provided to past clients. To begin your kitchen renovation process, call Preferred Kitchen & Bath at 949-830-6300.