The bathroom is one of the most important rooms in the home — shouldn't every part of it work for you and your family? Renovation projects are not just for HGTV shows; often, they are essential to ensure a room remains functional and safe. Here are five of the most significant signs that your bathroom needs a remodel ASAP: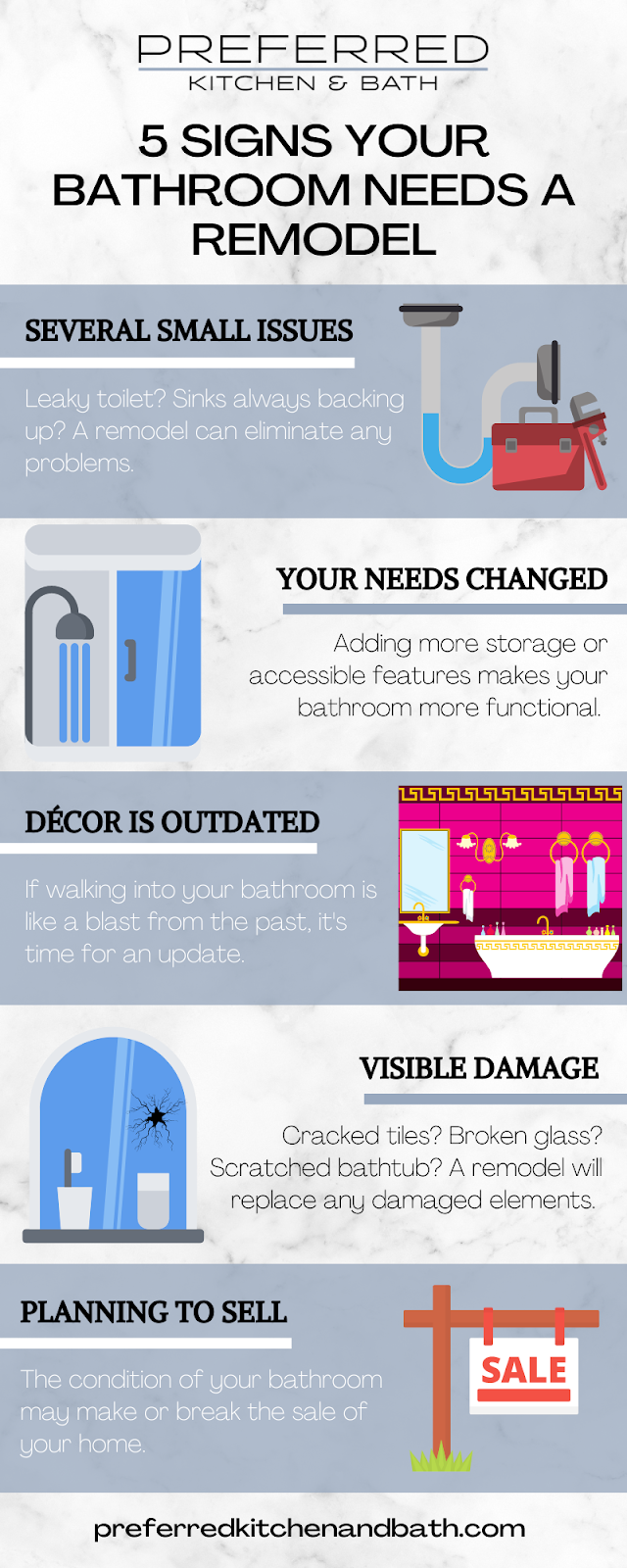 Small Problems Start to Arise
The bathroom is one of, if not the most used room in the home. Every piece of the space must work as it is supposed to. A leaky faucet or a broken towel rack may seem like a small issue now, but over time, it will only become worse. Unsightly problems can quickly transform into hazardous ones. Before this happens, consider renovating your bathroom, repairing any current issues, and preventing future ones from popping up.
Here are a few signs of small problems that can start to add up to a remodel:
Leaky, loose, or otherwise faulty fixtures

Broken, loose, or chipped towel racks or other accessories

Leaky toilet, or one that uses too much water per flush
No Longer Functional for Your Family
As your family grows and changes, your bathroom needs to as well. You may have added a new member to your family, and now you need more storage space. Or perhaps you and your significant other are getting older and require a bathroom with more accessible features. No matter what your current needs are, a bathroom remodel project can help to accommodate all of them and make the space functional once more.
Have changes in your family necessitated a bathroom renovation? Ask yourself:
Is there now a baby in the household?

Have your parents or in-laws moved in?

Have your adult children left for college or moved out permanently?

Is it becoming more difficult to get in and out of the tub?
Outdated Décor
When walking into your bathroom makes you feel like you stepped back in time (and not in a good way), a total remodel is in order. After all, what is the use of staying with a bathroom that you don't like? No matter if you have just moved into a new home with an outdated bathroom, or this project has been on your list for a while, there is never a bad time to renovate. Outdated décor, worn out pieces, or features that just don't fit your style can all be replaced in order to transform your current bathroom into the one that you have always dreamed of.
Here are a few signs that scream "retro" bathroom, or one that needs a style update:
Toilet, tub, or sinks in pastel colors like green, pink, blue, or yellow

Colorful porcelain tiles on the floor or walls

Mismatched fixtures or accessories
Visible Damage
If your bathroom shows obvious signs of disrepair, it's definitely time to begin planning your renovation. You do not need to live with cracked or missing tiles, peeling paint, or bathtub stains that never seem to go away. When just walking into your bathroom makes you cringe and whip out your to-do list, it's time to jump into action. Mold and water damage are also incredibly common in the bathroom. However, these types of damage are more than unattractive; they can also affect your family's health. Make your bathroom look great and remain safe and sanitary with a bathroom remodel for your Orange County home.
Here are some signs of damage that you should look for when deciding to remodel:
Chipped, cracked, or missing tiles

Water damage along the wall, ceiling, or floor

Mold growth or stains on grout that can't be removed

Scratched or stained bathtub or shower

Peeling paint or wallpaper
Planning to Sell
Are you getting ready to sell your home? The bathroom can be a make-it or break-it feature for a lot of homebuyers. By renovating it, you can attract more buyers and possibly even boost the sale price. Take a look at your current bathroom and determine where you can make some improvements. Outdated décor and shoddy plumbing can be major turnoffs to some.
However, upgrading your bathroom for potential buyers does not need to be a large or complicated process. Even something as simple as a fresh coat of paint and new fixtures can make a huge difference. Consult a professional designer to weigh your options and determine the best way to improve your bathroom.
If your bathroom is in dire need of a renovation, contact us at Preferred Kitchen & Bath to learn how we can help.