Bath Remodeling Guide
So You've Decided to Renovate Your Bathroom
Congrats! Experts around the globe have spoken, and kitchens and bathrooms are the two rooms in your home you can expect to see the highest returns on. Renovation investments aside, take comfort in the knowledge that no matter the scope of the project, you will be rewarded in one way or another. If only the satisfaction of a dream is well done. The following information is a general guide to help determine the extent of the work you would like done and what your investment will resemble.
How long do bathroom renovations take?
The answer to this question really depends on the scope of work required. A general rule of thumb is anywhere from six to eight weeks. If the remodel involves removing walls or turning closets into bathroom space, the timeframe can go up past the eight-week mark.
Is it a good idea to upgrade mechanical parts during the renovation?
That is actually the perfect time to do so. If you are ripping up the old floor or walls anyway, why not increase the size of your piping or install a new drain? This is the perfect time to add missing valves and upgrade lighting with new switches or a GFCI outlet to prevent circuit overloads while the drywall has been removed. During the initial demolition, you can make room for a new exhaust or ventilation without any impediments.
What does a standard bathroom renovation cost?
This answer is usually broken down into the size of the bathroom being renovated, which can vary from a half-bath to a master bathroom makeover. Other factors impacting the bathroom remodeling cost are the quality of the material used and what part of the country you are living in. Bathroom remodeling costs generally are higher in California, especially in Orange County. Here at Preferred Kitchen and Bath, we will take our time to listen to your ideas and to find out what type of design will best fit your needs.
During our initial consultation, we will go to your house and take measurements. Once we have calculated the total cost of materials for your renovation cost, we will let you know the total cost of remodeling your bathroom.
Though initial costs may seem high, the average Orange County homeowner can expect to receive between 80-100% of the value for any bathroom remodel back, so look at your budget and plan accordingly. Once you're settled on the changes you're willing to make, call in the experts at Preferred Kitchen and Bath to discuss your dream renovation in more detail.
Ideas to Consider for Your Bathroom Remodel Plan
Incorporating modern bathroom remodeling ideas into your floor plan can elevate your space from mundane to magnificent. For example, shower tub upgrades and wall tile additions can make a significant difference in aesthetic appeal. 
Meanwhile, innovative storage solutions can maximize your space and enhance its functionality. Leveraging eco-friendly fixtures and energy-efficient lighting can also help you save money in the long run. The average cost of these bathroom remodeling projects can vary greatly depending on your choices, but a thoughtful and thorough plan can ensure you get the most out of your renovation.
Common Bathroom Remodeling Plan Mistakes and How to Prevent Them
Unfortunately, even the most cautious homeowner can fall prey to common bathroom planning mistakes. One of the most prevalent errors involves ignoring the existing plumbing and electrical layout when envisioning a bathroom design — drastic changes to these systems can dramatically inflate remodeling costs.
In the excitement of the remodel, some homeowners might accidentally overlook the importance of choosing durable materials for areas exposed to high moisture, such as the shower tub and wall tile. To avoid these pitfalls, consider hiring contractors who are well-versed in the nuances of bathroom renovation. Remember, licensed and insured bathroom remodeling contractors can save you money, time, and the stress of potential mishaps down the line.
How Our Professionals Can Help You Create Your Bathroom Remodel Plan
Having our experts on your side can make the bathroom remodeling process much smoother. Design professionals can help you create a bathroom design that is both aesthetically pleasing and functional, providing you with a floor plan that complements your lifestyle and needs. These bathroom remodeling contractors are experts in navigating the practical considerations of bathroom remodeling projects, including adhering to building codes, planning for adequate plumbing and electrical services, and helping you select materials that balance quality and cost. 
Plus, with our industry knowledge, we can give you a more accurate estimate of the average cost of your remodeling project — helping you budget more effectively. The combination of hiring contractors and leveraging professional design input can undoubtedly take your bathroom renovation to the next level.
Reach Out for Bathroom Remodel Planning Services Today
Ready to begin the planning process for your upcoming bathroom renovation? Contact Preferred Kitchen and Bath today, and our experienced team will be happy to help and answer any questions you may have.
Additional Articles About Bath Remodeling: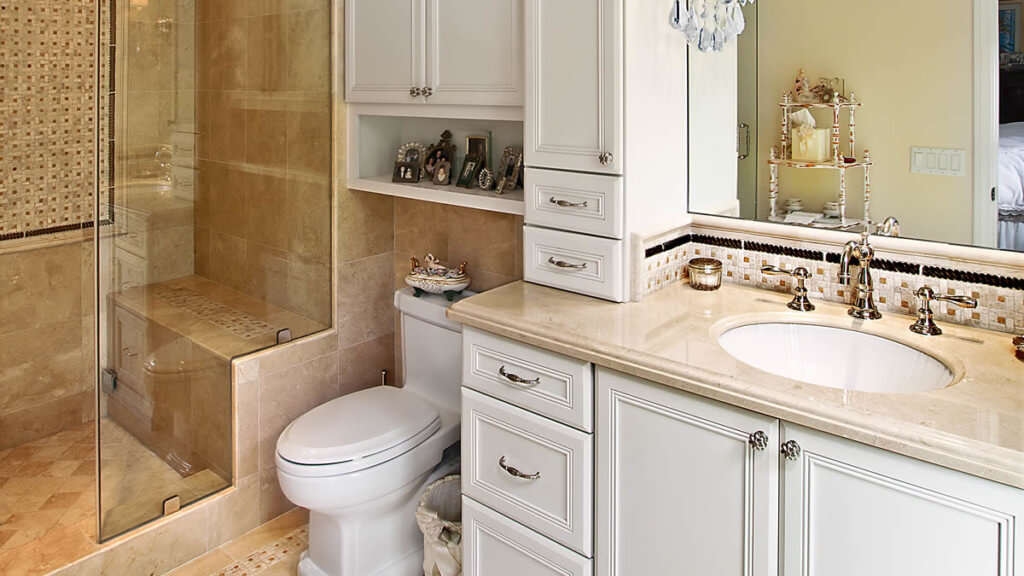 ---