Remodeling your bathroom is a great way to increase your home value and beautify your home. Bathroom vanities in Orange County, CA, are the focal point of the bathroom, so when you're doing a bathroom remodel, it's important that you pick the right countertops. Here are some things you should consider when deciding which material is best for your bathroom countertop.
Durability and Maintenance
Remodeling your bathroom is a big investment, so it's imperative that you choose a countertop that's durable and easy to maintain since you likely will be living with this choice for years to come. You'll probably want to avoid a laminate countertop because it's not as resistant to water as other materials. Ceramic or porcelain tiles won't be subject to water damage, and you can often design the bathroom to use tiles that match the wall or floor tiles. Natural stone countertops area very popular choice because they're beautiful, durable, and resistant to staining. There are additional things you need to know about the most common types of bathroom countertops.
Porcelain
Although porcelain isn't natural stone, it's a popular choice for bathrooms because it resists scratches from impacts. It's a nonporous material, so it won't absorb liquids, which means it rarely stains. One of the disadvantages of porcelain is that there are limits to the size and shape of the sink you can install with the countertop because of the way the porcelain sheets are fabricated.
Marble, Granite, and Quartzite
Natural stone like granite, marble, and quartzite are very popular choices for both kitchens and bathrooms. These natural stones are hard to match in beauty and appearance because each slab is unique in its veining, color, and pattern. They're easy to care for, especially in the bathroom where there's not as much risk of acidic foods etching or staining the surface. However, there is some maintenance required because the stone is porous, so it should be sealed regularly to keep water from absorbing into the stone.
Quartz
Quartz is another popular product because it's resistant to heat, stains, and scratches. It's made of ground-up stone that's mixed with resin to create a solid, durable, and nonporous surface. Quartz generally has a more uniform appearance than natural stone because it doesn't have the natural veining and coloring that can sometimes result in a lack of consistency in other natural stone surfaces. Quartz is often the most expensive of all the surfaces because of its durability and ease of maintenance.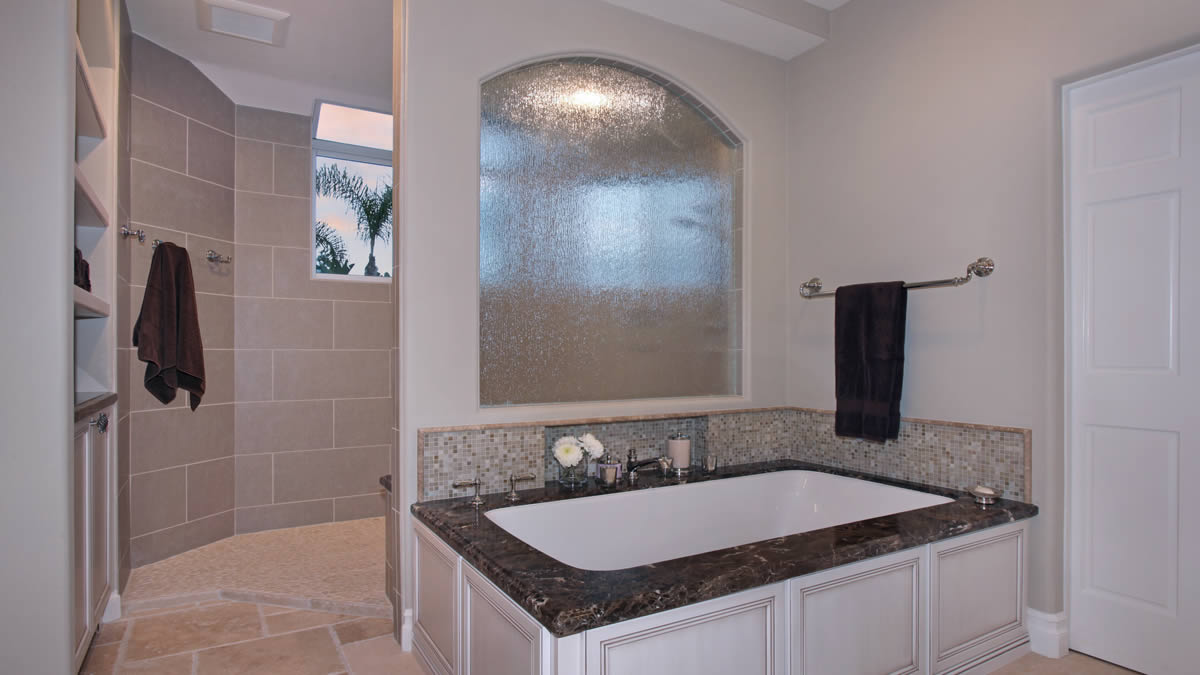 Color Considerations
Along with choosing the right material for your countertop, it's important to consider design and color when choosing your surface. Most people prefer to pick a color scheme for their bathroom based on the countertop, so you may want to keep that in mind when designing your bathroom. If you're working with a smaller space, it's usually best to choose a lighter countertop color to make the space feel bigger.
Edge Finish
Another design consideration is the edge of the countertop. Edge options may be limited with porcelain because of how it's manufactured. With natural stone, the edge detail can make a big difference. Consider whether you want a double or single edge, because that may limit you on different slabs. Make sure you look at different edge shapes as well so that you know if you want a square, bullnose, or OG edge. To learn more about how countertop choices factor into a bathroom remodel in Orange County, CA, contact Preferred Kitchen & Bath today.